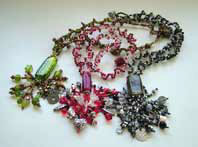 click to see larger image

joannaburyphotography.com
Nemesis Necklace
A frilly, frothy necklace with an eyecatching pendant, finished with a lush tassel. This is an intermediate kit, most suitable for beaders with some experience of peyote stitch. All the beads, thread, accents, charms and wire you need to make this striking necklace are beautifully packaged in a handy storage box, accompanied by full instructions with step-by-step photographs.
Kits are available in Lime (acid green/bronze, shown below), Tanzanite (lilac/copper), Black Diamond (grey/black/silver) and Ruby (red/silver) and cost £17.50 incl of UK postage from my Etsy shop www.nemeton.etsy.com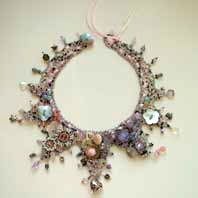 click to see larger image
Marie Antoinette collar
Beautifully packaged in its own storage box, the kit contains all the seed beads, accents, thread and ribbon you need to make this necklace. The design has been slightly adapted from the original project (Beadwork magazine, April/May 2007) to make it easier to bead, and is currently available in six gorgeous colours: Lavender, Mermaid, Peacock, Champagne, Rose or Russet. The kits cost £37 inclusive of UK postage and are now all listed in my Etsy shop www.nemeton.etsy.com, or you can email me to order. These kits are assembled in small batches, so if you would like one in a particular colour just contact me and I'll see what I can do.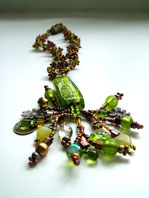 click to see larger image
Nemesis Necklace - green
£17.50, inclusive of first class post within the UK.
Project tutorial sheets
Available separately or as a set: 1. Peyote Pipes, 2. Capture a Cabochon, 3. Sleek Beaded Bead, 4. Summer Dew. Projects 1, 3 and 4 are also available as kits; kits for 2 are coming soon, so keep checking my Etsy shop.
'Mojo Boxes'
My 'Mojo Boxes' recently featured in the Marketplace pages of Bead magazine and are just the thing for experienced beaders whose creativity is feeling low; they are individually assembled with UK handmade lampwork beads, seed beads and accents all carefully chosen to coordinate. A handy leaflet of ideas is included to get you going and inspire you! They cost just £16 inclusive of UK postage and packing. The boxes currently available are listed in my Etsy shop; if you don't see the colours you'd really like, email me and I'll see what I can do!
New kits recently added to my range include:
Magpie Cuff Kit
Summer Dew Necklace Kit
Spiral Surprise Necklace Kit
Sleek Beaded Bead Kit